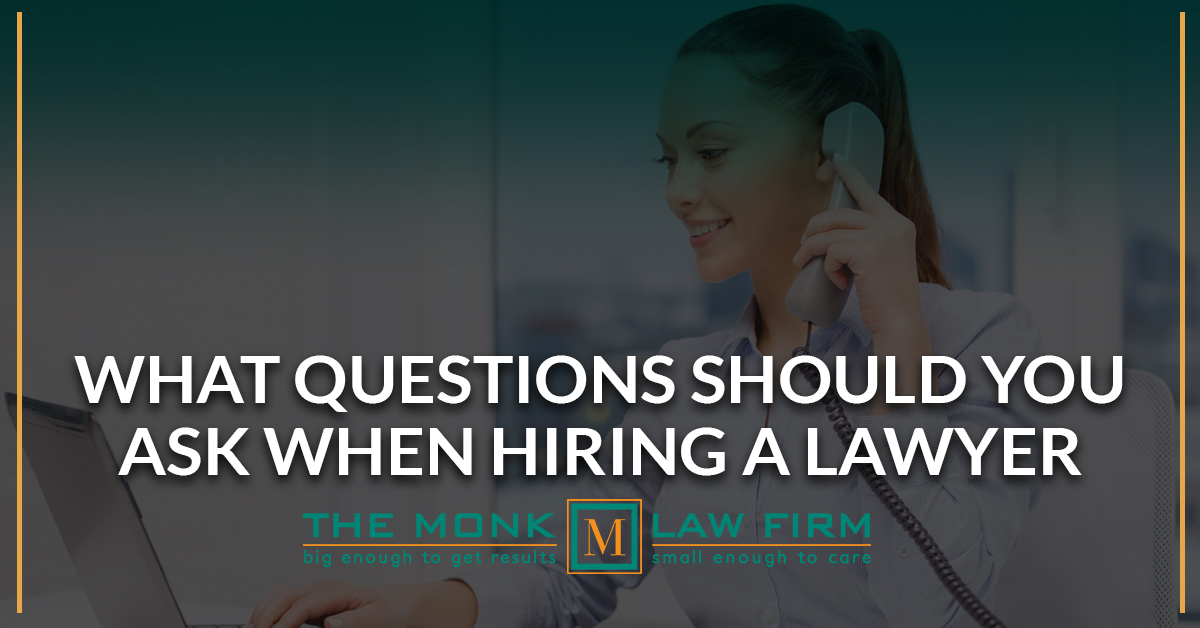 One of the most common reasons people need to hire a lawyer is that they have been injured in a car accident. Since there is always the possibility of long-term care being required, as well as damages, it makes sense that an attorney would be needed. On the other hand, this is often the first incident in many people's lives that require a lawyer and therefore, they aren't quite sure where to start. If you want to make sure that the first attorney you hire is the right attorney, we can assist you. Continue reading below to uncover the right questions you should ask your potential counsel if you want your case to turn out as positively as possible.
The Right Questions
If you have been injured in a traffic accident, having a lawyer who you can trust is an absolute must. After all, there is a lot on the line here. If the case does not go accordingly, you stand to lose a lot of time and money. Some of the most important questions you should not forget to ask a lawyer before you hire them are as follows:
How long have you practiced as a personal injury lawyer?

Have you handled a lot of cases like mine in the past?

What sorts of cases do you most often handle? Are they traffic injury accidents?

Can I see your professional credentials?

Approximately how many traffic accident cases have you taken in an average year? How many resulted in settlements? How many went to trial?
How Will This Specific Lawyer Handle Your Case?
If you want the best outcome possible, you need to have complete faith in how a specific attorney will handle your case. This means you need to ask some questions that may make you feel a bit intrusive. However, this is your right. You need to know how a specific lawyer will work with you and how they have handled cases in their past. While a hands-on approach is preferred by some and a more relaxed approach is preferred by others, the right answer can only be decided by you and you alone. If you want to make sure your attorney is going to do exactly what you need from them, you may consider asking the following questions:
How will you manage my case? And will you be splitting the workload with another attorney at the firm?

Who is going to make court appearances? Who is going to attend negotiations?

Who is going to be your day-to-day point of contact?

Is your case going to require that there are expert witnesses? If so, who will they be and what is their purpose?

How often will they check in and give you a better idea of what is happening in your case?

How can you get ahold of your lawyer and how often should you expect to hear back from them?
Case Weaknesses and Strengths
When you hire an attorney, it's extremely important that you know what the likelihood of a positive outcome is. Your attorney needs to inform you of the possible roadblocks in your case, as well as how likely it is that you will get the desired outcome. While it may not always be easy to hear the truth, knowing upfront is likely going to save you a good amount of money and time. This will also give you a better idea of whether your case is likely to end in a settlement or if you are going to be heading to court. Your lawyer can also let you know if mediation or arbitration are options in your specific case.
You should also ask what the timeline of your case is. Knowing how long you have to manage your finances while you wait to find out if you are going to be receiving compensation for your damages is important. Without asking this, it's not completely out of the question that you would end up unable to support yourself as the negotiations or trial are going on. While your attorney may not have an exact timeline for you, it certainly cannot hurt to ask.
How Much Is Your Case Going To Cost You?
Lastly, you're going to know how much their representation is going to cost you in the grand scheme of things. Is your case going to cost you money upfront? Is there a contingency fee or an hourly rate? What about a retainer fee or a total cost if the case does not turn out the way you want it to?
Your Trusted Atlanta Area Attorney
If you have been injured in an accident and you want to get the best possible outcome, approaching the right law firm is key. Monk Law Firm services clients in Atlanta and in surrounding areas like Lawrenceville, Roswell, Athens, and Sandy Springs. For more information about of legal services, call us today or stop by our office to schedule an appointment.